PROJECTE GOING BEYOND THE COUNTRIES'ART ANDORRA-CYPRUS-LIECHTENSTEIN-LUXEMBOURG-MALTA-MONACO-SAN MARINO/SMALL STATES ON UNCERTAIN STEROTYPES/VIDEO SENSITIVE POSTCARDS: THE PARADISE CONSUMER. San Marino, 2005
The project was a meeting in San Marino for discussion days and a workshop with artists representing the small states, the corresponding institutions and contemporary art centres. I am selected to represent Andorra with my colleagues: Pep Aguareles, Eve Ariza and Susana Herrador. During the days in the section of VIDEO SENSITIVE POSTCARDS we 4 presented the video made for the event: THE PARADISE CONSUMER, made to the guidelines of the given theme: SURPASSING THE ART OF THE COUNTRIES, SMALL STATES UNDER AN IMPRECISE STEREOTYPE.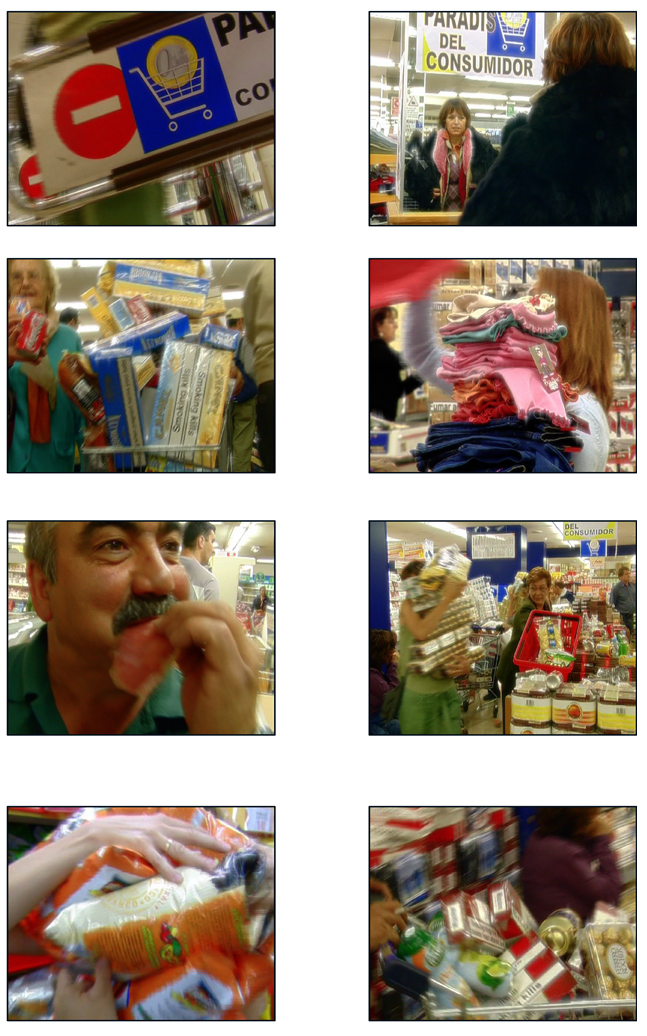 PHOTOGRAMS THE PARADISE CONSUMER
THE PARADISE CONSUMER video-art. It works on the topic of compulsive consumption, with a humorous tone. It was filmed in ANDORRA 2000, an important and well-known shopping mall in the Andorran capital.